Certain watershed memories involve the soul's need for a larger perspective.  Watching the passing scenery through the windshield instead of a single side window, seeing the next horizon from the top of a hill, drinking in the distance visible from a building's top floor, being stunned into awed silence by summiting a pass – these watershed vistas momentarily satiate the soul's need to see out.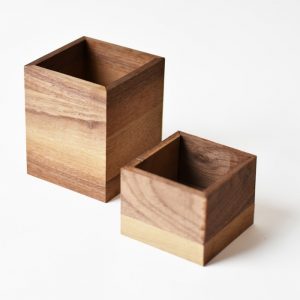 At times, however, we find ourselves looking at life with limited vision.  What pieces form this box that traps the soul?
Wall 1 could be an obligation to match the preferences of authority figures in our lives.  (What would my parents say?)
Wall 2 might be the expectations of those whose approval I seek. (What about my friends?)
Wall 3 involves worry about the needs of other generations. (What would my children say?)
Wall 4 may be a perceived duty to help others. (What do those in my community think?)
The floor of the box often consists of our inadequacy in the face of life's challenges. (Do I have what it takes to keepstanding?)
The lid is often fear of some sort.  (What keeps me inside the box?)
When our primary thoughts circle around "I want to be safe," self-protective fear exerts the pressure of suspicion necessary to hold the walls of the box in place.  
When our decisions are driven by obligation, expectations, and duty to others, thoughts of "I need to be right" create a life ofjudgment.  This inner life of suspicion and judgment not onlypushes away the very people with whom we long to be close, it also blackens our self-worth with condemnation.  
However, we have options!  When the curiosity of "I want to know what's true" becomes our motivation, the lid of fear is loosened.  Climbing the walls of the box to position ourselves at their top allows us to scan, not only what's in and around us, but also what's outside and above us.  Combining curiosity withcourage enables us to see out from the ramparts of discernment. Living on the heights is not easy — but it is crucial for growing into the full expression of the persons we were meant to be.  As author James W. Goll has said, "We must maintain the inner life to be effective in the outer life."
If this change in perspective appeals to you, here are some ideas for climbing the walls of the box.
■ 
Watch 
one of
 Brené' Brown
's
TED Talks
.
■ 
Journal about others' obligations and expectations
 of you
, a
s well as
 your dut
ies
, worr
ies
, and 
feelings of 
inadequacy.
■ 
Don't 
settle for
 living 
from 
inside the box!